SUPREME COURT RULES POLICE USE OF GPS TRACKING DEVICE VIOLATES FOURTH AMENDMENT
---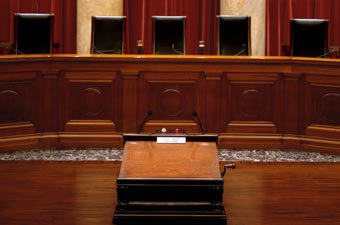 WASHINGTON (Reuters) – The Supreme Court ruled on Monday that police cannot put a GPS device on a suspect's car to track his movements without a warrant, a test case that upholds basic privacy rights in the face of new surveillance technology.
The high court ruling was a defeat for the Obama administration, which had argued that a warrant was not required to use global positioning system devices to monitor a vehicle on public streets.
The justices unanimously upheld a precedent-setting ruling by a U.S. appeals court that the police must first obtain a warrant to use a GPS device for an extended period of time to covertly follow a suspect.
The high court ruled that placement of a device on a vehicle and using it to monitor the vehicle's movements was covered by U.S. constitutional protections against unreasonable searches and seizures of evidence.
There are no precise statistics on how often police in the United States use GPS tracking in criminal investigations. But the Obama administration told the court last year it was used sparingly by federal law enforcement officials.
The American Civil Liberties Union rights group hailed the ruling as an important victory for privacy. "While this case turned on the fact that the government physically placed a GPS device on the defendant's car, the implications are much broader," Steven Shapiro of the ACLU said.
"A majority of the court acknowledged that advancing technology, like cell phone tracking, gives the government unprecedented ability to collect, store, and analyze an enormous amount of information about our private lives," he said.
SUSPECTED DRUG TRAFFICKER
The case began in 2005 when police officers went to a public parking lot in Maryland and secretly installed a GPS device on a Jeep Grand Cherokee used by a Washington, D.C. nightclub owner, Antoine Jones.
Jones was suspected of drug trafficking and the police tracked his movements for a month. The resulting evidence played a key role in his conviction for conspiring to distribute cocaine.
The appeals court had thrown out Jones's conviction and his
life-in-prison sentence, and ruled prolonged electronic monitoring of the vehicle amounted to a search.
All nine justices agreed in upholding the appeals court decision, but at least four justices would have gone even further in finding fault not only with the attachment of the device but also with the lengthy monitoring.
In summarizing the court's majority opinion from the bench, Justice Antonin Scalia said attachment of the device by the police was a trespass and an improper intrusion of the kind that would have been considered a search when the Constitution was adopted some 220 years ago.
The administration argued that even if it were a search, it was lawful and reasonable under the Constitution. Scalia said his opinion did not decide that issue and some more difficult problems that may emerge in a future case, such as six-month monitoring of a suspected terrorist.
Joining Scalia's opinions were Chief Justice John Roberts and Justices Anthony Kennedy, Clarence Thomas and Sonia Sotomayor.
Sotomayor wrote separately to say the case raised difficult questions about individual privacy expectations in a digital age but said the case could be decided on narrower grounds over the physical intrusion in attaching the device.
LONG-TERM MONITORING
Justice Samuel Alito wrote a separate opinion that Justices Ruth Bader Ginsburg, Stephen Breyer and Elena Kagan joined. He wrote that he would have decided the case by holding that Jones's reasonable privacy expectations were violated by long-term monitoring of his vehicle's movements.
Alito said in recent years many new devices have emerged that track a person's movements, including video surveillance in some cities, automatic toll collection systems on roads, devices on cars that disclose their location, cell phones, and other wireless devices.
"The availability and use of these and other new devices will continue to shape the average person's expectations about the privacy of his or her daily movements," he wrote.
One law professor said those four justices were clearly concerned about the potential impact of new technologies and believed extended monitoring likely required a warrant so law enforcement should "be on the safe side and get a warrant."
"This is an indication that there are justices who are recognizing that privacy norms are shifting but the fact that people's lives take place increasingly online does not mean that society has decided that there's no such thing as privacy anymore," said Joel Reidenberg, a law professor at Fordham University in New York.
The Supreme Court case is United States v. Antoine Jones, No. 10-1259.
(Reporting By James Vicini; Editing by Will Dunham)